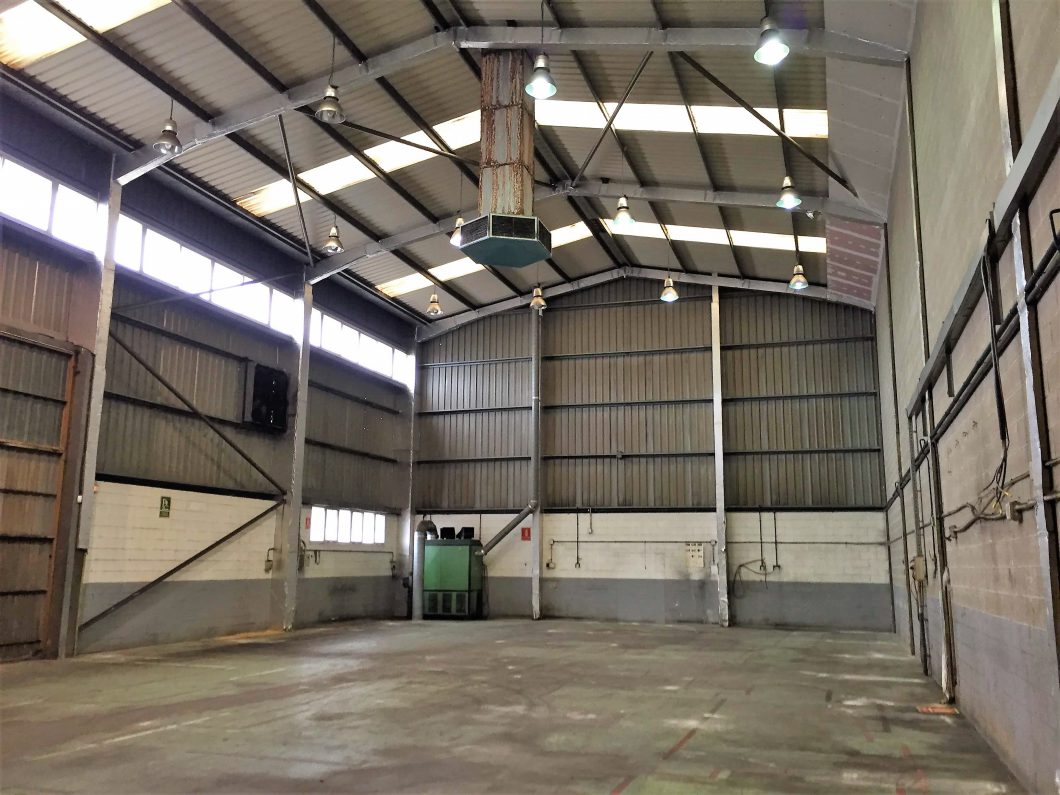 Rented out
Open House: solicite visita!
DESCRIPTION
Isolated warehouse, of 1.780m2, distributed in two diaphanous floors of 700m2 each plus 384m2 of offices with large offices, reception, file room, and meeting room, all renovated, with separate entrance and access to offices from the street.
Highlight of the ship, its strategic location with excellent access to roundabouts and dual carriageway A2, B23, Public Transport.
Two (2) accesses for industrial vehicles, independent for each plant.
Details:
Lift truck
Refrigeration / ventilation equipment throughout the ship
Ceiling height of 10 meters height.
dining room
Electrical installation | Fires
Alarm
It has 5 parking´s spaces for exclusive use.
CATALA
Nau aïllada, de 1780m2 de superfície, distribuïda en dues plantes diàfanes de 700m2 cadascuna més 384m2 d'oficines amb amplis despatxos, recepció, sala d'arxius, i sala de junta, tot reformat, amb entrada independent i accés a les oficines des de carrer.
Destacar de la nau, la seva situació estratègica amb excel·lents accessos a rondes i autovia A2, B23, Transports Públic.
Dos (2) accessos per a vehicles industrials, independents per a cada planta.
detalls:
muntacàrregues
Equips de refrigeració / ventilació en tota la nau
Alçada de sostres de 10 metres d'alçada.
Sala amb Menjador
Instal·lació elèctrica | Incendis
alarma
Disposa de 5 places de pàrquing d'ús exclusiu.
DESCRIPCIÓN
Nave aislada, de 1.780m2 de superficie, distribuida en dos plantas diáfanas de 700m2 cada una más 384m2 de Oficinas con amplios despachos, recepción, sala de archivos, y sala de junta , todo reformado, con entrada independiente y acceso a las oficinas desde calle.
Destacar de la nave, su situación estratégica con excelentes accesos a rondas y autovía A2, B23, Transportes Público.
Dos (2) accesos para vehículos industriales, independientes para cada planta.
detalles:
Montacargas
Equipos de refrigeración / ventilación en toda la nave
Altura de techos de 10 metros de altura.
Sala con Comedor
Instalación eléctrica | Incendios
Alarma
Dispone de 5 plazas de parquing de uso exclusivo.
Price:

€

1.200.000 €

EUR

Address:
Molins de Rei
City:
Molins de Rei
State:
Barcelona
Floors:
2
Square Feet:
1.780m2
Bathrooms:
4
Garage:
5
| | |
| --- | --- |
| Property Type: | Inustrial & Logistics |
| Exterior: | amplia fachada a calle - nave independiente aislada - |
| Interior: | excelente estado de conservación |
| Location: | Polígono Industrial Molins de Reis, con todo tipo de servicios |
| Parking: | 5 plazas de garage |