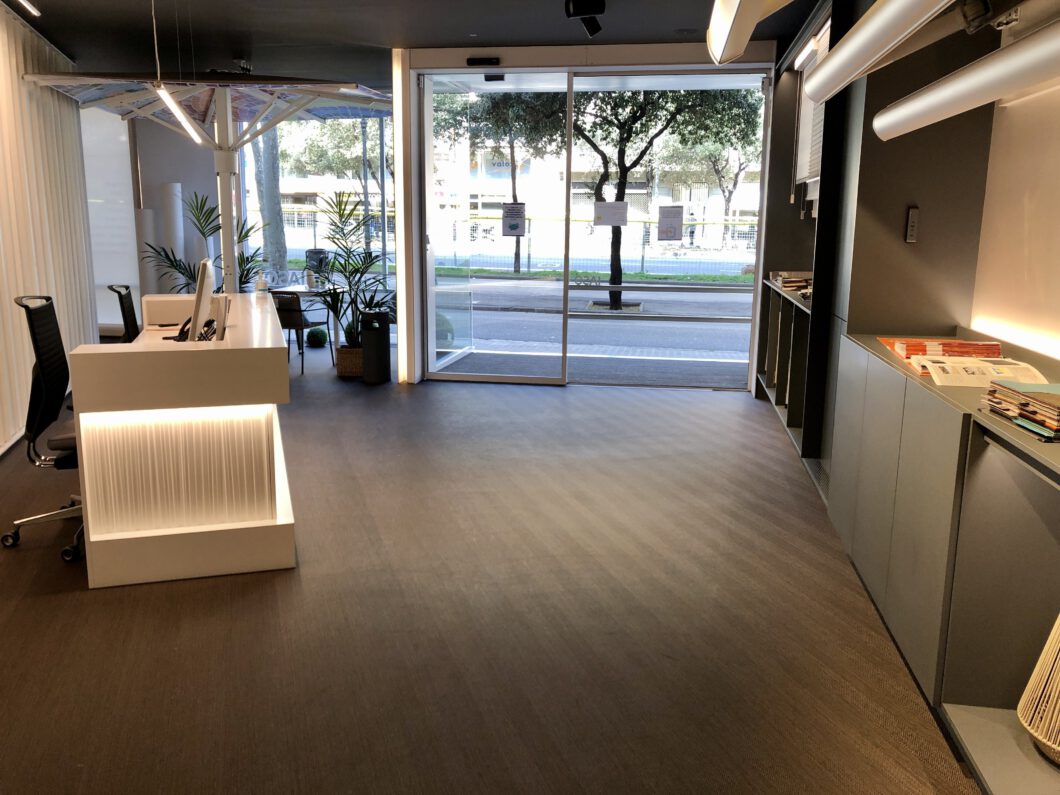 Sold
Open House: solicite visita!
---
Sobre la misma Avinguda Diagonal de Barcelona, se encuentra este interesante local comercial a la venta.
Se trata de un local comercial de 474m2 de superficie, en planta diáfana a nivel de calle, dispone de una interesante fachada acristalada de 21metros, le sigue actualmente una amplia zona de showroom, otra amplia zona de open space destinada a oficinas y tres dependencias actualmente destinadas a despachos y sala de reuniones. 2 baños totalmente reformados y zonificados. Para concluir un exquisito office totalmente equipado.
Destacar del local, su excelente situación sobre la misma Avg Diagonal, su excelente estado e instalaciones, climatización frio y calor, domótica, cableado para datos y telefonía.
Dispone de tres plazas de parking incluidas en el precio del local, en el mismo edificio, en planta -1 y desde las cuales se accede directamente al local.
El local se encuentra arrendado con contrato de obligado cumplimiento de dos años, con una rentabilidad bruta anual de 4,61%.
Una excelente oportunidad de inversión y adquisición.
Catalán:
Sobre la mateixa Avinguda Diagonal de Barcelona, ​​es troba aquest interessant local comercial a la venda.
Es tracta d'un local comercial de 474m2 de superfície, en planta diàfana a nivell de carrer, disposa d'una interessant façana de vidre de 21metros, el segueix actualment una àmplia zona de showroom, una altra àmplia zona d'open space destinada a oficines i 3 dependències actualment destinades a despatxos i sala de reunions. 2 banys totalment reformats i zonificats. Per concloure un exquisit office totalment equipat.
Destacar de el local, la seva excel·lent situació sobre la mateixa Avg Diagonal, el seu excel·lent estat i instal.lacions, climatització fred i calor, domòtica, cablejat per a dades i telefonia.
Disposa de tres places de pàrquing en el preu de el local, en el mateix edifici, en planta -1 i des de les quals s'accedeix directament a el local.
El local es troba arrendat amb contracte d'obligat compliment de dos anys, amb una rendibilitat bruta anual de 4,61%.
Una excel·lent oportunitat d'inversió i adquisició.
English:
On the same Diagonal Avenue of Barcelona City, ​​is this interesting commercial shop for sale.
It is a 474m2 commercial space, open plan at street level has an interesting 21meter of the glass facade, is currently followed by a large showroom area, another large open space area for offices and currently three units for offices and meeting rooms.
Two fully renovated and zoned bathrooms. To conclude an exquisite fully equipped office.
The highlight of the commercial shop, its excellent location on Avg Diagonal itself, its excellent condition and facilities, hot and cold air conditioning, home automation, data cabling, and telephony.
It has three parking spaces at the price of the shop, in the same building, on floor -1 and from which you can directly access the premises.
The premises are leased with a mandatory two-year contract, with gross annual profitability of 4.61%.
An excellent investment and acquisition opportunity.
Price:

€

1.300.000€

EUR

Address:
Avenida Diagonal
City:
Barcelona
Zip Code:
08006
Year Built:
1985
Floors:
1
Square Feet:
474m2
Bathrooms:
2
Garage:
3 opcionales