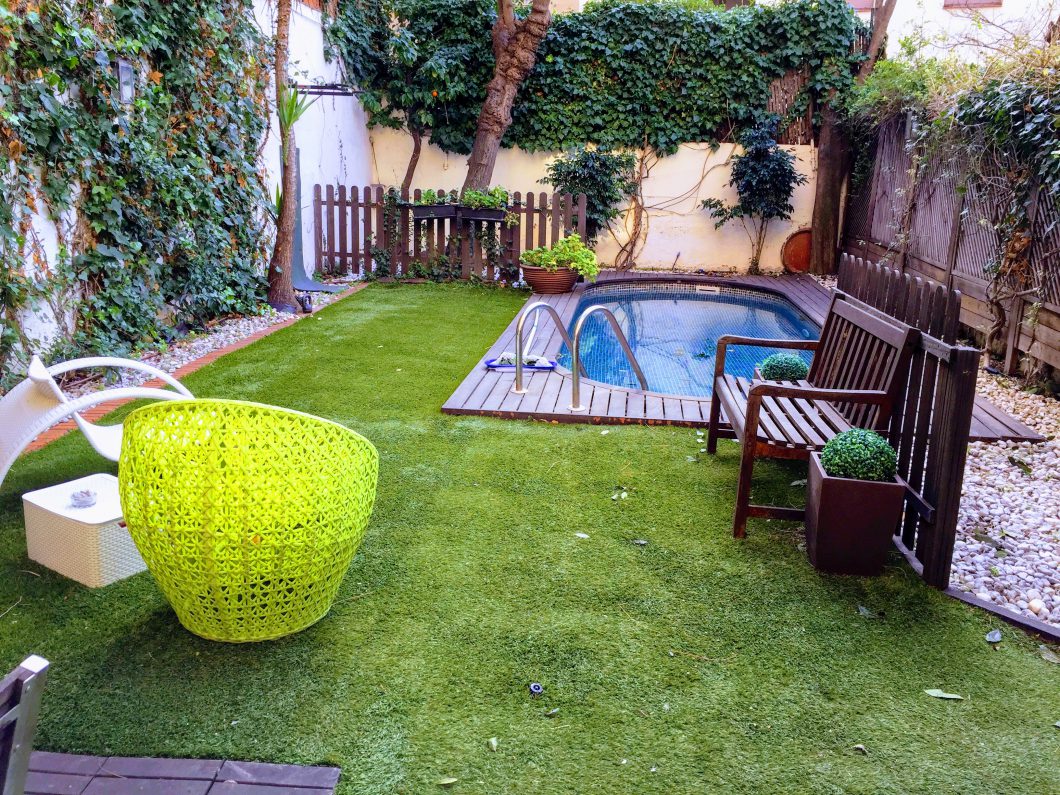 Sold
Open House: Solicite Visita!
An excellent opportunity to have a nice house in Barcelona
---
Next to the Gardens of the Turo del Putxet, is this great home for sale.

It is a house where each corner highlights its minimalist design and defined lines, taking care of every detail between functionality and aesthetics.

The house has 108 m2, and 100m2 of the garden at the foot of the living room, in the garden itself we find the pool next to the landscaped garden, equipped with automatic irrigation and trees that provide the green space for privacy.


The house has a current distribution, determined by day and night areas respectively, has three bedrooms, one of them en suite, another double and a single third, followed by another bathroom that serves the rest of the bedrooms, the independent kitchen, equipped with furniture of the Santos brand, synonymous with quality and functionality, from the kitchen we have access to patio and laundry.

The day area, we find the spacious living room with excellent views of the garden and pool, with double glazed windows and quality aluminium carpentry, highlight the Bow Windows area and the exit to an interesting terrace that gives access to the garden itself.


The garden has space equipped with a refrigerator, machine room and the possibility of installing kitchen with pica.


Speaking of the hight area of ​​Barcelona ​​is synonymous with quality of life with a strong residential sense and with all kinds of services, medical centres, schools, sports centres, supermarkets, restaurants and excellent communication of public transport, metro, Catalan railways, bus lines


Also highlight the access by private transport, through the Dalt round, and different avenues that give access to the downtown area of ​​the city.


We are facing an exclusive home, right in Barcelona with quality details and a magnificent private garden and pool.
PRICE + TAXES AND EXPENSSES
---
Castellano:
Junto a los Jardines del turo del Putxet, se encuentra esta estupenda vivienda en venta.
Se trata de una vivienda en donde cada rincón destaca su diseño minimalista y de líneas definidas, cuidando cada detalle entre funcionalidad y estética.
La vivienda dispone de 108 m2 de superficie, y 100m2 de jardín a pie de salón comedor, en el propio jardín encontramos la piscina junto al cuidado parquizado del jardín, equipado con riego automático, y arboles que dotan al espacio verde de privacidad.
La vivienda cuenta con una distribución actual, determinada por las zonas de día y noche respectivamente, dispone de tres dormitorios uno de ellos en suite, otro doble y un tercero individual, le sigue otro baño que da servicio al resto de dormitorios, la cocina independiente, equipada con muebles de la marca Santos, sinónimo de calidad y funcionalidad, desde la cocina tenemos acceso a patio y lavadero.
La zona de día, encontramos el amplio salón comedor con excelentes vistas al jardín y piscina, con cristaleras de doble vidrio y carpintería de aluminio de calidad, destacar la zona de Bow Windows y la salida a una interesante terraza que da acceso al propio jardín.
El jardín dispone de espacio equipado con nevera, cuarto de máquinas y la posibilidad de instalar cocina con pica.
Hablar de la zona alta de Barcelona, es sinónimo de calidad de vida con un marcado sentido residencial y con todo tipo de servicios, centros médicos, colegios, centros deportivos, supermercados, restaurantes y una excelente comunicación de transporte público, metro, ferrocarriles catalanes, líneas de autobuses.
Destacar así mismo, los accesos en transporte privado, a través de ronda de Dalt, y diferentes avenidas que dan acceso a la zona centro de la ciudad.
Estamos ante una exclusiva vivienda, en pleno Barcelona con detalles de calidad y un magnífico jardín privado y piscina.
PRECIO + IMPUESTOS Y GASTOS
---
Catalá:
Al costat dels jardins del Turo del Putxet, es troba aquesta gran casa en venda.
Es tracta d'una casa on cada racó destaca el seu disseny minimalista i les seves línies definides, tenint cura de tots els detalls entre funcionalitat i estètica.
La casa té 108 m2, i 100m2 del jardí als peus de la sala d'estar, al mateix jardí trobem la piscina al costat del jardí enjardinat, equipada amb reg automàtic i arbres que proporcionen l'espai verd per a la intimitat.
La casa té una distribució actual, determinada per zones de dia i de nit respectivament, té tres habitacions, una d'elles en suite, una altra doble i una tercera, seguida d'un altre bany que dóna servei a la resta de dormitoris, la cuina independent, equipada amb mobles de la marca Santos, sinònim de qualitat i funcionalitat, des de la cuina tenim accés al pati i la bugaderia.
A la zona de dia, trobem l'ampli saló amb excel·lents vistes al jardí i a la piscina, amb finestres de doble vidre i fusteria d'alumini de qualitat, destaquen la zona de Bow Windows i la sortida a una interessant terrassa que dóna accés al jardí.
El jardí disposa d'espai equipat amb nevera, sala de màquines i la possibilitat d'instal·lar cuina amb pica.
Parlar de la zona alta de Barcelona és sinònim de qualitat de vida amb un sentit residencial fort i amb tot tipus de serveis, centres mèdics, escoles, centres esportius, supermercats, restaurants i una excel·lent comunicació de transport públic, metro, català. ferrocarrils, línies d'autobusos
Destaqueu també l'accés mitjançant transport privat, a través de la ronda de Dalt, i diferents vies que donen accés a la zona centre de la ciutat.
Ens trobem davant d'una casa exclusiva, a Barcelona, ​​amb detalls de qualitat i un magnífic jardí privat i piscina.
PREU + IMPOSTOS I DESPESSES
Price:

€

778.000€

EUR

Address:
Zona Alta Barcelona
City:
Barcelona
State:
Barcelona
Zip Code:
08006
Floors:
1
Square Feet:
108
Lot Square Feet:
208
Bedrooms:
3
Bathrooms:
2
Pool:
1
| | |
| --- | --- |
| Property Type: | Residencial Vivienda con Jardín y Piscina en plena Zona Alta de la ciudad de Barcelona |
| Heat/Cool: | si |
| Location: | Putxet | Barcelona |
| Recreation: | 100m2 de jardín privado con piscina |
| Rooms: | 1 principal en Suite 1 Doble 1 Individual |
| Laundry: | 1 |
| Utilities: | Jardín con área para maquinas, riego automático, piscina, cuarto despensa. |
Additional Features
Home Summary
Kitchen Summary
cocina totalmente reformada y equipada con detalle en muebles de la marca Santos
Living Room
amplio e independiente sal����¯�¿�½���¯���¿���½������¯������¿������½����¯�¿�½������¯����¯�¿�½������¿����¯�¿�½������½����¯�¿�½���¯���¿���½����¯�¿�½������¯����¯�¿�½���¯���¿���½����¯�¿�½������¿����¯�¿�½���¯���¿���½����¯�¿�½������½����¯�¿�½���¯���¿���½������¯������¿������½����¯�¿�½���¯���¿���½����¯�¿�½������¯����¯�¿�½���¯���¿���½������¯������¿������½����¯�¿�½���¯���¿���½����¯�¿�½������¿����¯�¿�½���¯���¿���½������¯������¿������½����¯�¿�½���¯���¿���½����¯�¿�½������½����¯�¿�½���¯���¿���½������¯������¿������½����¯�¿�½������¯����¯�¿�½������¿����¯�¿�½������½����¯�¿�½���¯���¿���½����¯�¿�½������¯����¯�¿�½���¯���¿���½����¯�¿�½������¿����¯�¿�½���¯���¿���½����¯�¿�½������½����¯�¿�½���¯���¿���½������¯������¿������½����¯�¿�½������¯����¯�¿�½������¿����¯�¿�½������½����¯�¿�½���¯���¿���½������¯������¿������½����¯�¿�½���¯���¿���½����¯�¿�½������³n con excelentes vistas a jard����¯�¿�½���¯���¿���½������¯������¿������½����¯�¿�½������¯����¯�¿�½������¿����¯�¿�½������½����¯�¿�½���¯���¿���½����¯�¿�½������¯����¯�¿�½���¯���¿���½����¯�¿�½������¿����¯�¿�½���¯���¿���½����¯�¿�½������½����¯�¿�½���¯���¿���½������¯������¿������½����¯�¿�½���¯���¿���½����¯�¿�½������¯����¯�¿�½���¯���¿���½������¯������¿������½����¯�¿�½���¯���¿���½����¯�¿�½������¿����¯�¿�½���¯���¿���½������¯������¿������½����¯�¿�½���¯���¿���½����¯�¿�½������½����¯�¿�½���¯���¿���½������¯������¿������½����¯�¿�½������¯����¯�¿�½������¿����¯�¿�½������½����¯�¿�½���¯���¿���½����¯�¿�½������¯����¯�¿�½���¯���¿���½����¯�¿�½������¿����¯�¿�½���¯���¿���½����¯�¿�½������½����¯�¿�½���¯���¿���½������¯������¿������½����¯�¿�½������¯����¯�¿�½������¿����¯�¿�½������½����¯�¿�½���¯���¿���½������¯������¿������½����¯�¿�½���¯���¿���½����¯�¿�½������­n y salida a terraza
Master Suite
suite principal
vivienda en venta calle Hurtado Barcelona
vivienda en venta calle Hurtado Barcelona
excelente oferta de centros educativos, colegios