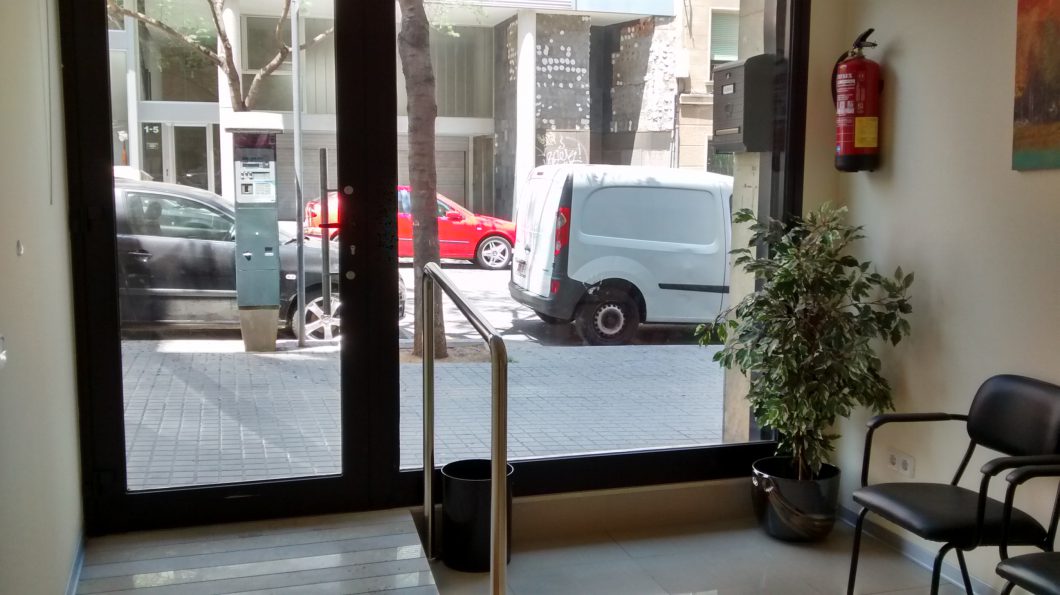 Active
Open House: solicite visita!
€

355.000 €

EUR

Property Type:

Commercial

Baths:

2

Sq Ft:

249 m2
Descripción
Local comercial, en excelente estado de conservación, reformado, con una superficie de 249.29m2 + 30 m2 de altillo practicable.
Dispone de zona comercial con oficinas y despachos independientes, sala de reuniones / junta. Y área de recepción de clientes.
Un aspecto a destacar es su propia distribución actual, en dos zonas perfectamente determinadas, una donde se encuentran las oficinas comerciales y de administración y la otra zona, de almacén con acceso independiente para vehículos comerciales.
Otros de los aspectos a destacar, es la propia situación, dentro de zona comercial de tipo medio, junto a principales avenidas, vías y plaza Maragall, cuenta con una excelente comunicación de transporte público, a través de diferentes líneas de autobuses y Metro.
Características / equipamiento:
Fachada a calle 9 metros lineales
Alturas de techos libres de 4.75mts.
Accesos: dos accesos independientes desde calle.
2 WC
Totalmente Ignifugado
Por la propia estructura, situación y estado del inmueble, ofrece la posibilidad de implantación de diferentes actividades comerciales y de usos.
CATALA
Local comercial, en excel·lent estat de conservació, reformat, amb una superfície de 249.29m2 + 30m2 magatzem.
Disposa de zona comercial amb oficines i despatxos independents, sala de reunions / junta. I àrea de recepció de clients.
Un aspecte a destacar és la seva pròpia distribució actual, en dues zones perfectament determinades, una on es troben les oficines comercials i d´administració i l´altra zona, de magatzem amb accés independent per a vehicles comercials.
Altres dels aspectes a destacar, és la pròpia situació, dins de zona comercial de tipus mitjà, al costat de principals avingudes, vies i plaça Maragall, compta amb una excel·lent comunicació de transport públic, a través de diferents línies d´autobusos i metro.
Característiques / equipament:
Façana a carrer 9 metres lineals
Altures de sostres lliures de 4.75mts.
Accessos: dos accessos independents des de carrer.
2 WC
Totalment Ignifugat
Per la pròpia estructura, situació i estat de l´immoble, ofereix la possibilitat d´implantació de diferents activitats comercials i d´usos.
Descrption
Commercial shop, in excellent condition, renovated, with an area of ​​249.29m2 + 30m2 warehouse
It has a commercial area with offices and independent offices, meeting room / board. And customer reception area.
An aspect to emphasize is its own current distribution, in two perfectly determined zones, one where are the commercial and administration offices and the other area, warehouse with independent access for commercial vehicles.
Other aspects to highlight is the situation itself, within a medium commercial area, along main avenues, roads and Maragall square, has an excellent communication of public transport, through different bus lines and Metro.
Features / Equipment:
Facade with street 9 meters linear
Free ceiling heights of 4,75mts.
Access: two independent access from the street.
2 toilets
Totally Ignifugado
Due to the structure, situation and state of the property, it offers the possibility of implementing different commercial activities and uses.
Price:

€

355.000 €

EUR

Address:
Barcelona
City:
Barcelona
State:
Barcelona
Floors:
1
Square Feet:
249 m2
Bathrooms:
2
Garage:
1
| | |
| --- | --- |
| Property Type: | comercial and offices |
| Parking: | 1 |