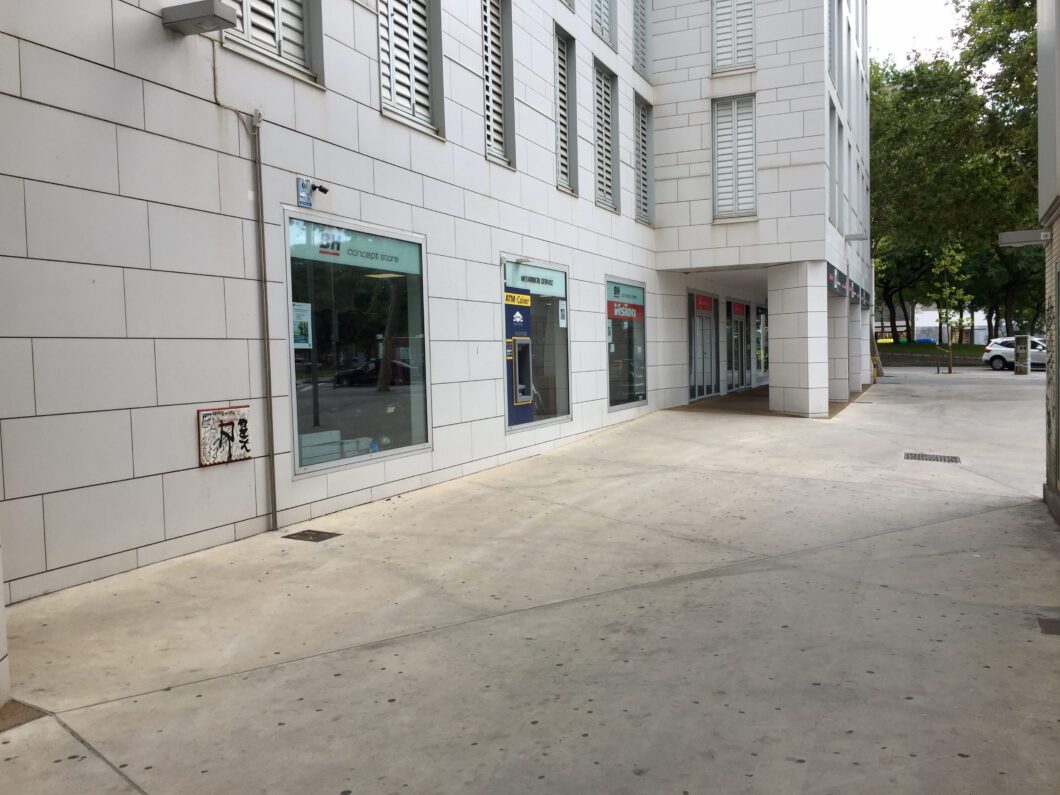 Sold
Open House: solicite visita!
---
En inmejorable situación, en pleno centro de Barcelona, se encuentra este interesante local comercial en alquiler y/o en venta.
Se trata de un local comercial de 301m2 de superficie construida, en una sola planta diáfana con mas de 20 metros lineales de fachada acristalada.
El local es esquinero, con una excelente visualización, cuenta con una amplia fachada en cristaleras de gran tamaño y exposición.
El local comercial se encuentra en los bajos de edificio de diseño moderno de excelente presencia, construido en el año 2010.
Destacar del local comercial, su situación, metros lineales de escaparate, y su estado impecable, equipado con aparatos de climatización tanto de aire acondicionado como calefacción.
Otro aspecto a destacar, es la propia distribución del local comercial, en una sola planta amplia y diáfana con techos altos y dos accesos al mismo.
Situado a escasos metros de Pº de Borbón y Mall de la Fusta de la ciudad de Barcelona.
Catalá:
En immillorable situació, en ple centre de Barcelona, es troba aquest interessant local comercial de lloguer i / o en venda.
Es tracta d'un local comercial de 301m2 de superfície construïda, en una sola planta diàfana amb mes de 20 metres lineals de façana de vidre.
El local és cantoner, amb una excel·lent visualització, compta amb una àmplia façana a vidrieres de grans dimensions i exposició.
El local comercial es troba als baixos d'edifici de disseny modern d'excel·lent presència, construït l'any 2010.
Destacar de el local comercial, la seva situació, metres lineals d'aparador, i el seu estat impecable, equipat amb aparells de climatització tant d'aire condicionat com calefacció.
Un altre aspecte a destacar, és la pròpia distribució de el local comercial, en una sola planta àmplia i diàfana amb sostres alts i dos accessos al mateix.
Situat a pocs metres de Passeig de Borbó i Mall de la Fusta de la ciutat de Barcelona.
English:
In an unbeatable location, in the heart of Barcelona City, is this interesting commercial shop for rent and/or for sale.
It is a commercial space of 301m2 of constructed area, on a single open floor with more than 20 linear meters of glass façade.
The place is a corner, with excellent visualization, has a wide facade with large windows and exposure.
The commercial shop is located on the ground floor of a modern design building with an excellent appearance, built-in 2010.
A highlight of the commercial shop, its location, linear meters of a shop window, and its impeccable condition, equipped with air conditioning devices for both air conditioning and heating.
Another aspect to highlight is the distribution of the commercial premises itself, on a single, spacious, and open floor with high ceilings and two accesses to it.
Located a few meters from Pº de Borbón and Mall de la Fusta at the city of Barcelona.
Price:

€

3.900€ rent 670.000€ sale

EUR

Address:
Dr Aiguader
City:
Barcelona
Zip Code:
08003
| | |
| --- | --- |
| Property Type: | estupendo local comercial en inmejorable zona del centro de la ciudad de Barcelona |
| Construction: | año 2010 |
| Exterior: | totalmente |
| Flooring: | 1 sola planta diáfana |
| Heat/Cool: | si |
| Lot size: | 301 |
| Location: | Barcelona Centro |
Local Comercial en Dr Aiguader Barcelona Ciudad