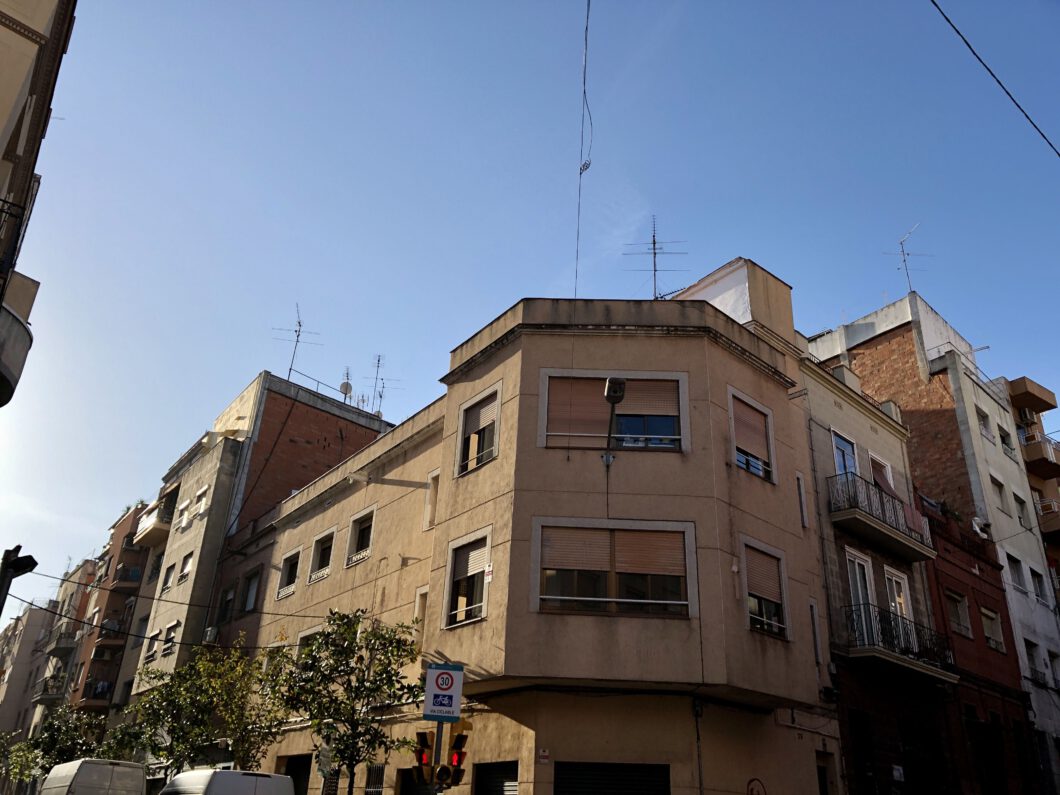 Sold
Open House: solicite visita!
---
EDIFICIO TOTALMENTE REHABILITADO 8 unidades
Edificio totalmente rehabilitado en excelente situación de Collblanc L´Hospitalet de Llobregat, ubicado a dos calles de Riera Blanca, consta de 8 unidades en planta Baja y tres alturas
Las viviendas totalmente reformadas donde disponen viviendas tipo loft, de dos y tres dormitorios y áticos en tercera planta con terrazas
El edificio dispone de dos entradas dos escaleras independientes quedan acceso a los diferentes viviendas y locales comerciales
El edifico no dispone de ascensor siendo el mismo de tres plantas de altura.
Todas las viviendas son exteriores a calle con acabados en parket, baños y cocinas totalmente reformadas.
El edificio se encuentra en zona con alta demanda de alquileres.
Edificio oportunidad de inversión para patrimonialista.
La rentabilidad está basada en el nuevo index de precios de alquiler de la Generalitat de Catalunya a través de la agencia de l´habitatge.
Rentabilidad bruta prevista 6% anual.
Catalán
EDIFICI TOTALMENT REHABILITAT 8 unitats
Edifici totalment rehabilitat en excel · lent situació de Collblanc Hospitalet de Llobregat, situat a dos carrers de Riera Blanca, consta de 8 unitats en planta Baixa i tres altures
Els habitatges totalment reformades on disposen habitatges tipus loft, de dos i tres dormitoris i àtics en tercera planta amb terrasses
L'edifici disposa de dues entrades dues escales independents queden accés als diferents habitatges i locals comercials
L'edifici no disposa d'ascensor sent el mateix de tres plantes d'alçada.
Tots els habitatges són exteriors a carrer amb acabats en parquet, banys i cuines totalment reformades.
L'edifici es troba en zona amb alta demanda de lloguers.
Edifici oportunitat d'inversió per patrimonialista.
La rendibilitat està basada en el nou index de preus de lloguer de la Generalitat de Catalunya a través de l'agència de l'Habitatge. Rendibilitat bruta prevista 6% anual.
English:
FULLY REHABILITATED BUILDING 8 units
Fully renovated building in excellent location in Collblanc L´Hospitalet de Llobregat, located two streets from Riera Blanca, consists of 8 units on the ground floor and three floors
The completely renovated homes where they have loft-type homes, with two and three bedrooms and penthouses on the third floor with terraces
The building has two entrances, two independent staircases are access to the different homes and commercial premises
The building does not have an elevator, being the same three stories high.
All houses are exterior to the street with parquet finishes, bathrooms and fully renovated kitchens.
The building is located in an area with high demand for rentals.
Building investment opportunity for patrimonialista.
Profitability is based on the new rental price index of the Generalitat de Catalunya through the l´habitatge agency.
Gross profitability 6% per annum.
Price:

€

1.050.000€

EUR

Address:
Carrer Mas
City:
L´Hospitalet Llobregat
State:
Barcelona
Zip Code:
08903
Floors:
3
Square Feet:
457m2
| | |
| --- | --- |
| Property Type: | residencial y comercial |